Officials Development Panel (ODP)
The Official's Development Panel (ODP) was created to raise the overall standard of Umpires, Umpires Managers, and Technical officials within Junior Premier Hockey.
The strategy of ODP is to recruit, retain & develop high potential officials by identifying them as "JPH Officials Development Panel" then support & develop those officials on a pathway to achieve success within Junior Premier Hockey and other elite events.
For more information on this program, contact JPH ODP Coordinator, Roque Viegas.
QUALIFICATION CRITERIA
Be a member of your hockey National Association (i.e. USA FH, FHC, etc)
Have a minimum USA FH Level II rating or equivalent
Willing and able to travel to JPH sites for development and assessment
Work a minimum three dates per year at a JPH event or provide equivalent support to JPH as confirmed by a JPH Director
Be current with the rules
Regularly attend workshops offered by USA FH or JPH
Stay physically fit
Show high potential and desire to:

Achieve success at elite levels of hockey [Panel A or B] or
Mentor and educate others to achieve success at an elite level [Panel C]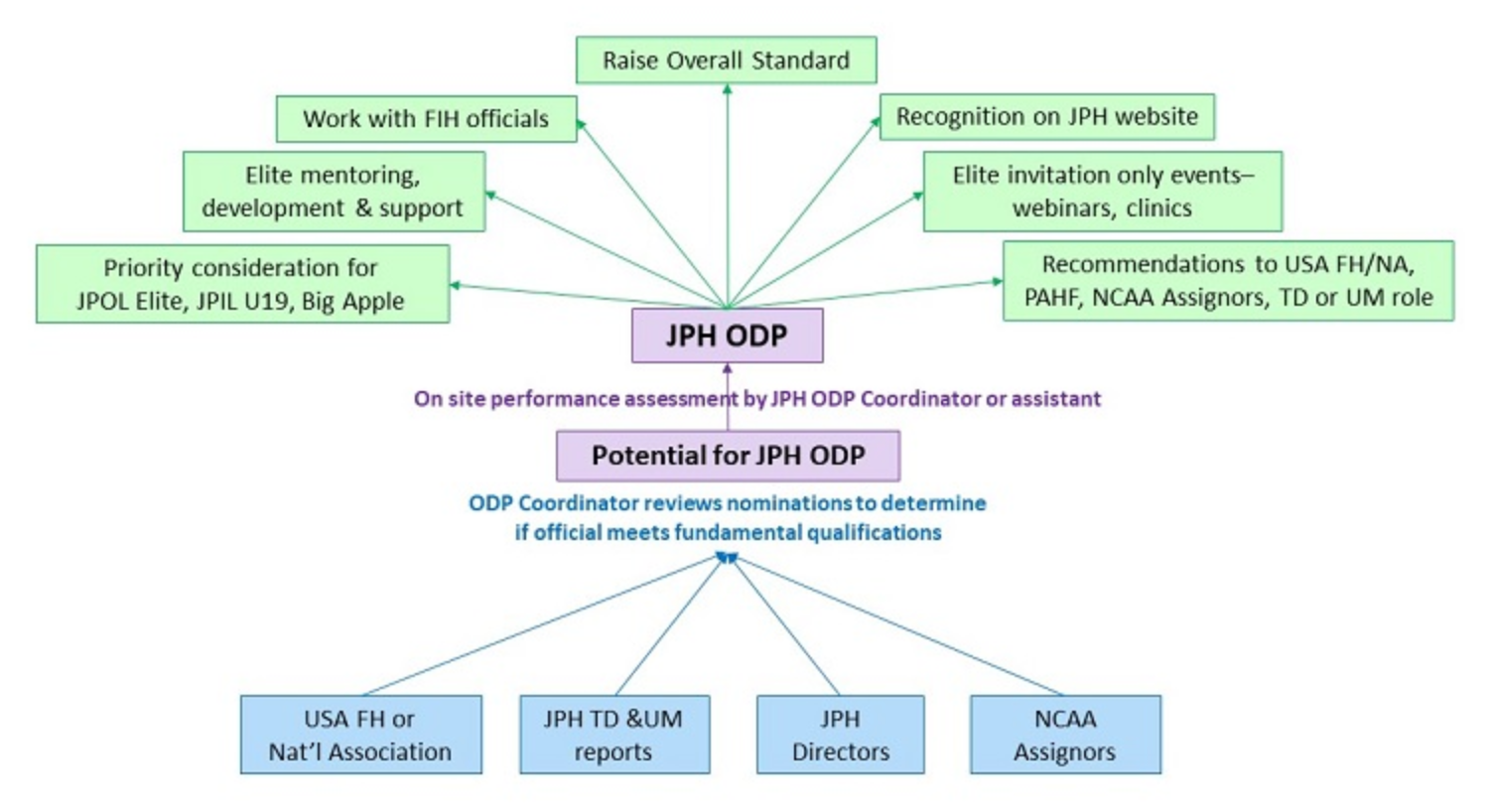 TECHNICAL OFFICIALS
Rael Nyte
UMPIRES
Allie Mikelson
TECHNICAL OFFICIALS
Elizabeth Rudd
Gena Piper
Jennifer Koller
Samantha Flood
Cheryl Bruttomesso
Donny Gobinsingh
Frances E. Corl (Assistant Educator)
Kim Scott
Laurie Hogan
Maggie Giddens Chance
Regina Sands-Corl
Tracy Maccariella
Facilitators
Lurah Hess
Rene' Zelkin
Wendy Stewart